The Seabrook of Hilton Head
True living is sharing a smile, feeling the warmth of a well-cooked meal and enjoying the company of friends and neighbors.
That's exactly what The Seabrook of Hilton Head in South Carolina provides.
A not-for-profit continuing care retirement community, The Seabrook provides all the joys and comforts of life, even while individuals transition from one lifestyle to the next.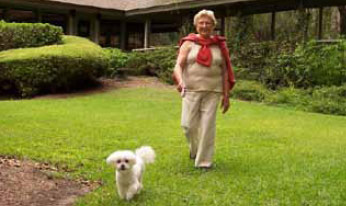 "New residents quickly realize what others have discovered – that our community is very much like a home," explained Maureen Rosene, director of sales and marketing. "This feeling persists around the entire community, by staff and residents alike."
Among its staff, The Seabrook has a low turnover rate, which, according to Rosene, is a direct result of the respect employees have for one another. They simply care about their fellow employees, a great source of pride both for staff members and residents.
"There are staff members who have been here the entire time, since our doors opened in 1982. Having such a low turnover rate is unusual in a resort area such as Hilton Head," said Rosene, a Seabrook family member for nine years.
New residents such as Mona and John Bickers were apprehensive of meeting new friends in their new home but soon learned that The Seabrook family was anticipating their arrival.
"We were greeted by a host of people, and the staff came by to welcome us. Our names were already on the resident list and the front door call panel," said the Bickers. "Our names were also already on the 'they have a pet list.' The friendliness was overwhelming."
Hilton Head is recognized as a major golfing community along the East Coast – and for good reason. The Heritage Golf Tournament is held every year on the island. But there is more to Hilton Head than golf. Many people visit simply to take in its natural beauty.
"We are located right next to The Sea Pines Forest Preserve, so we get to enjoy the natural inhabitants of the island," Rosene explained. "Hilton Head is manicured and well kept. We are all part of our environment, not just at The Seabrook but all of Hilton Head."
Landscaping at The Seabrook includes several lagoons, gazebos and covered walkways, creating somewhat of a nature walk for residents, Rosene said.
Residents gather daily to enjoy fine dining, and there also is a weekly happy hour. Recreational tournaments, exercise classes, educational seminars, guest lectures, shopping trips and special excursions all contribute to the busy, rich and full lives residents enjoy.
Services and amenities at The Seabrook go beyond the essentials. There is around-the-clock security supervision and maintenance of the buildings and grounds. The heart of the community is The Seabrook Clubhouse, which offers a dining room, a library, a beauty parlor and barber shop, a lounge, a 200-seat auditorium and a cards and craft room. The list continues with a heated swimming pool, a woodworking shop and a putting green.
The Seabrook of Hilton Head is a place to call home. The Bickers' sum it up best: "Even thinking back on bygone days when the children and their outgoing personalities eased our entry into a community, we are pressed to match the welcome we found at The Seabrook."
Individuals must be 60 or older to live at The Seabrook. Options include independent living, assisted living – which includes home health – or the 5 Star Fraser Health Center, which has 33 private rooms dedicated to resident members.
To learn more about The Seabrook of Hilton Head, visit www.theseabrook.com or call (843) 842-3747.