Okatie Creek Golf Club : Hilton Head, South Carolina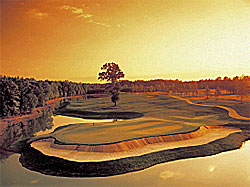 One Of The Best Things about living the good life at Del Webb's Sun City Hilton Head in Bluffton, South Carolina, must surely be the chance to play golf every day. After all, doesn't "retirement" mean you can enjoy your favorite sport whenever you feel the urge to chase a dimpled white ball around a lush, green carpet?
Sun City Hilton Head actually offers two courses, Okatie Creek and Hidden Cypress, both designed by PGA Tour pro Mark McCumber. A third course, Argent Lakes, is slated for the near future.
Okatie Creek was completed in 1995 and was the first course built in the Sun City community. Although it is probably less challenging since it lacks the undulations and additional length of Hidden Cypress, it is by no means an easy course. Named after a nearby creek, it is set amid pine trees and marshes.
Golfers of all ages and skill levels enjoy the course and its lush surroundings, which include 15 lakes, several of which come into play.
"People can determine how tough or easy the course is going to be," explains Bob Pfeffer, director of golf at Sun City Hilton Head. "In the end, it makes for a very enjoyable experience for all players."
A semiprivate club, it is open to residents as well as visitors who obtain a tee time two days in advance. Property is still available for purchase for those considering a move to an active adult community.
Among the most interesting holes on this course is the sixth, a 549-yard, par 5 that features a double-dogleg fairway. Although the course is basically flat, there are more than a few challenges, especially on the back nine. At one time, the 14th was guarded by a large tree in the center of the fairway, but lightning destroyed the tree and it was removed. Bunkers have since been put in its place. The 15th is a tough, 537 yard par 5.
The course, 6,724 yards in length off the championship tees, has a rating of 72.1 and a slope of 128 on Bermuda grass. Players can utilize a driving range and a putting green. There is also a full-service 10,400-square-foot clubhouse featuring the British Open Pub and a pro shop.