Wexford Plantation, Hilton Head - SC :
An Ever Changing View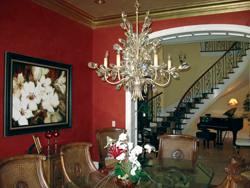 From our world to yours," is the philosophy of Carla Jaynes, award-winning interior designer and president of River Interiors. The Hilton Head Island firm specializes in custom residential and commercial projects.
"Whether in town or out-of-state, we offer clients a unique and ever-changing view," Jaynes explains.
With professional expertise, Jaynes is current on design and knows all about the antiques market and deluxe fabric lines available to those in the trade, such as Brunschwig & Fils, Clarence House and Scalamandré. She also keeps up with what's out there as far as wall coverings and furnishings.
"Custom-sized pieces will be tomorrow's antiques," she says. Her fine eye distinguishes color hues, furnishings, fabrics, textures, accessories and how they enhance one another.
"Ongoing relationships with clients such as Sue and William Busch have taken us from the bones of the home to finishing design elements, such as the 22-karat crystal chandelier with gold leaf on the entry dome. Sue and I had fun in the dining room with a custom mix of red faux paint with gold glaze, gold leaf crown and subtle faux finish on the ceiling," says Jaynes.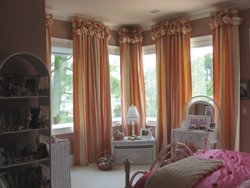 Refining an existing residence or designing custom work, Jaynes is equally at home with homeowners as well as with builders, including Joe Nix of Nix Construction.
"I enjoy working with Joe. We complement each other with flexibility in style," she says.
Custom clients receive an interior design package from River Interiors that includes selections of cabinetry, granite, flooring, lighting and decorative wall finishes. Jaynes' professional artistry is evident in her exquisite sense of fabric and color selection, resulting in splendid rooms designed for living.
"Every project evolves in a different way," Jaynes says. "There are interesting things you can do with a diversity of style. Every home is unique, with certain items that make each house a home. Individuals need personal elements in their environment. The best compliment came from Sue Busch when I was at her home for a New Year's Party. 'Dreams do come true, Carla. I now have a beautiful home and a wonderful friend," she told me."
Jaynes has been featured in Architectural Digest as Designer of the Year. She received the 1997 Chrysalis Award from Southern Living magazine and the prestigious Andrew Martin International Designer of the Year Award in 1998, 1999, 2001 and 2002. Known as the "Oscar" of interior design, Jaynes was the only Southeastern designer to be nominated for the prestigious honor.