Alston Park: Bluffton, South Carolina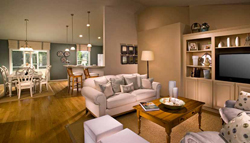 The sand, sun and surf of upscale Hilton Head Island is a short drive away in one direction, while another route will take you, in about the same amount of time, to historically significant Savannah, the resilient city by the sea that still stands as a testament to 18th century architecture.
Just 20 minutes or so from either of these busy icons of Southeastern tourism, a pleasant drive through a wooded nature preserve leads to The winding, tree-lined road is the only way into a placid world nearby yet somehow far removed from the relatively congested areas closer to the Southeast coast.
Located in Bluffton, South Carolina, a town with a population of a little more than 12,000, Alston Park also is convenient to the Marine Corps Air Station in Beaufort and a drive of less than two hours from historic Charleston.
If you live in Alston Park and you're not planning to visit any of these places, however, they might as well be a thousand miles away. A wooded enclave not far from the prestigious Palmetto Bluff community, Alston Park is all about enjoying the natural surroundings of the Lowcountry and venturing out into the more hurried world only when you choose to do so. Residents enjoy the outdoors on miles of hiking and biking trails, while other amenities include a community cabana and swimming pool, a large park and a state-of-the-art fitness center. And as much as they like the solitude of Alston Park's remote location, they also appreciate being able to take advantage of the entertainment, dining and recreation opportunities offered at the nearby towns, cities and beaches.
"The location is great," said Leslie Ehlers, who handles marketing for Village Park Homes, Alston Park's builder. "You're in the heart of Bluffton and halfway between Hilton Head and Savannah. It's a really prime location, and it's really quiet. It's a respite from the hectic pace of everyday life. It feels like it's a world away, but it's really in the middle of everything."
Village Park offers nine distinct oneand two-story home designs in Alston Park, ranging from the 1,460-squarefoot Oakfield to the 2,632-square-foot Laurel. Prices begin at $164,900 and continue up to $209,900 for the Laurel, a two-story option with a two-car garage, 244 square feet of finished flex space and a Carolina room.
Among the most popular plans in Alston Park is the Midland, a fourbedroom, two-bath, 1,720-square-foot home with an attached two-car garage and a Carolina room.
"It's a really great option for a family buying a home for the first time or for empty nesters looking to downsize," Ehlers said.
Every Village Park home comes with the 2-10 home buyer's warranty, which covers the house for a year for workmanship, two years for systems and 10 years for structural defects.
"We pride ourselves on providing the same attention to detail for more affordable homes as we do for high-end luxury homes," Ehlers pointed out.
For more information about homes in Alston Park, call (888) 568-1965 or visit www.villageparkhomes.com.